4-in-1 Christmas cookies
From one mixture, four types of biscuits are obtained with the addition of various ingredients.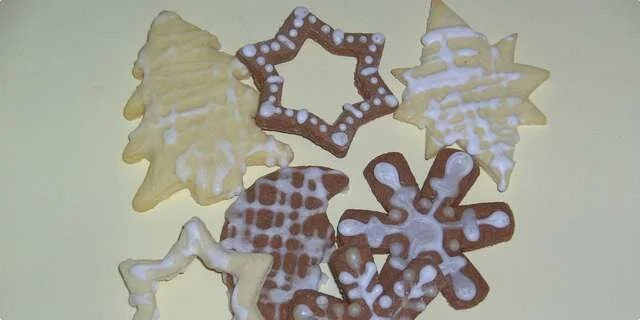 Preparation steps
For the basic dough:
Whisk the margarine with the sugar, stirring for about 5 minutes, until the whole mixture becomes frothy.
Add vanilla and salt and mix.
Add one egg at a time, beating the mixture well after each one.
Stirring with a mixer, add a tablespoon by tablespoon of flour, while stirring with a mixer. Continue to knead by hand until smooth.
Divide the dough into 4 parts and leave the 1st part as it is, in the 2nd part add cinnamon and mix well, in the 3rd part add lemon juice and flour as needed to make it smooth again (about 50 g), in the 4th part add cocoa and mix well.
Wrap all 4 doughs in cling film (each separately) and refrigerate for a minimum of an hour and a maximum of 2 days.
Take out one part at a time, roll it out on a floured surface, cut out the shapes with a mold and transfer with a spatula to a sheet lined with baking paper. Leave to stand for 10 minutes.
Then bake in a preheated oven at 180 ° C for 12-15 minutes, taking care not to burn.
Transfer the baked biscuits to the rack and let cool.
Decorate with white glaze: Mix sugar with milk to get a thick mixture.
Serving
If desired, food coloring can be added to the white glaze to obtain various colors, and then sprinkled on cookies. They can last up to 6 weeks in a closed container.