3kg banana cake
A cake that has been made in our family for years and has never failed…. Although it is harder to make, it is worth the effort!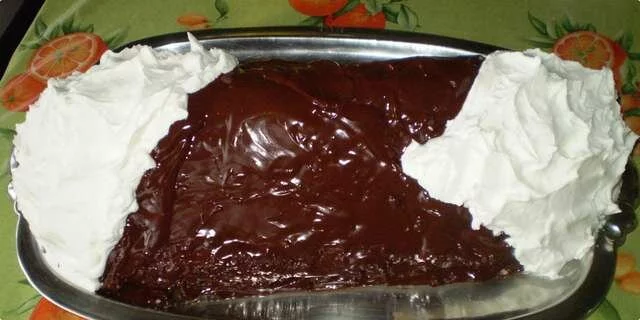 Preparation steps
Whisk the biscuit ingredients in order as written and bake in a large baking sheet the size of an oven.
While still warm, take it out so that you can bend the two corners upwards by placing the cloths.
Make the cream by first mixing the pudding with 1 tablespoon of flour in 2.5 dcl of milk, while you put 1 liter to boil (with sugar) and cook the pudding in it.
In the warm add margarine.
When the cream has cooled, spread a little (say 1/5) of the cream on the biscuit and bananas are poured over it, which you pour over the lemon juice.
Arrange three rows of bananas on the cream-coated biscuit and top with the cream again.
Go for 2 rows of bananas, cream, 1 row of bananas and spread everything with the rest of the cream. It fits at the top, like a pyramid.
Then close the cake by lifting the biscuit to make it look like this.
Melt the chocolate for the glaze, I usually put 1 dcl of oil per 100 g and it will be beautiful, but less here because it needs to be thicker chocolate so that it can be spread on the biscuit.
Mix the whipped cream.
Put whipped cream on the ends, on top of the cream.
Serving
I made this cake for my little godson for baptism… .. I remembered that some people call this cake a bow cake and some other users posted it on the culka, such as brzigonzales. Oh yes! I forgot to say - let the bananas be as long, flat and a little green as possible. Etogac! Tried kuglof