3in1 croissants
simple dough stuffed with different fillings. Each filling and croissant tells its own story.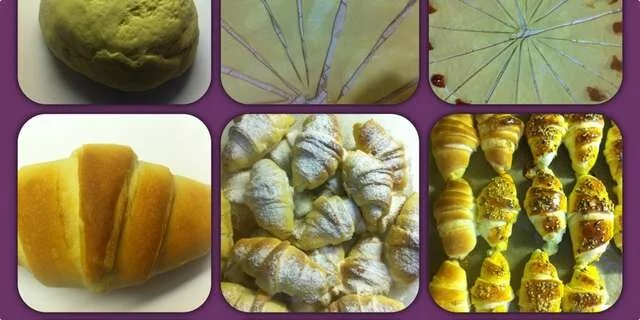 Preparation steps
Put flour in a bowl and make a hole, heat the milk and mix in the yeast and sugar, add to the flour and other ingredients and knead a soft dough.
Divide the dough into 4 parts. Divide each part into 5 parts again, roll each out a little and grate a little margarine on it. That is, dough, margarine, dough ... to the last 5th layer where margarine is not put but all rolled out.
Roll out a circle some 3.4 mm thick and divide into quarters and divide them again into four parts. Put the stuffing and wrap in croissants.
Let the croissants rise a bit and, depending on the filling, coat with egg yolk, ie if it is filled with fresh or grated cheese, spread with egg yolk and sprinkle with seeds as desired. Add a little salt to the beaten egg yolk.
Put croissants in a preheated oven at 190 degrees, about 20 minutes depending on the oven ...
Serving
Sprinkle the finished croissants with jam and chocolate with powdered sugar. ;on))