3D cakes - instructions for making using rice krispie treats
Instructions for making a cake where some parts (head and the like) are made of rice crispie treats to make them lighter and that everything can hold its shape.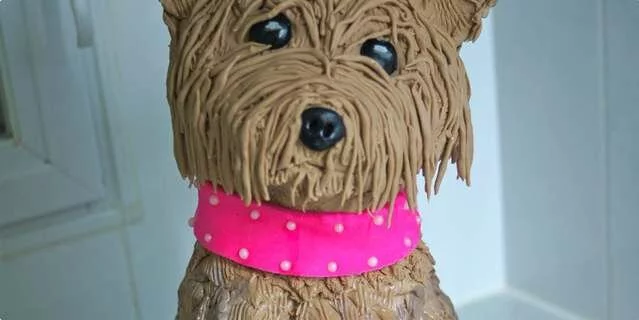 Preparation steps
For rice krispie treats, melt butter and marshmallows, mix rice krispie treats. You can shape the mixture into a pot (just dip your hands in cold water) or you can pour it into a mold smeared with butter and shape with a knife when it hardens in the fridge. You can use it for shapes such as the dog's head in the picture (for the lower part use more stable heavier cakes such as carrot cake, banana bread, etc.) and coat the whole shape with butter cream before coating. For dog fur you can use silicone furimprint or veiner tool, and for longer parts just roll out thin rollers and glue them with egg white. You can also use royal icing with a grass attachment. For cakes such as a lamp where rice krispie treats go to the bottom, press them with the cake and let them stand before coating with fondant as the bottom will shrink from the weight. Instructions for painting the cake can be found here. You can paint the snowflakes with the same technique as the starry sky, described here.