"30th Summer Cake :))))"
for this birthday cake I used first of all cake recipes from TANJA1234..thank you Tanja, your beautiful cakes helped me to make one cake for my jubilee birthday! :) I didn't want to put a recipe, but some asked me, so here to reveal the secret :))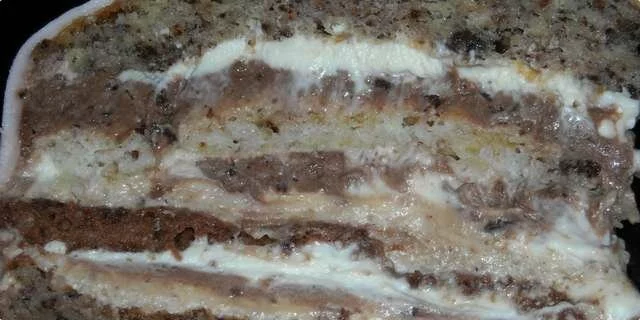 Preparation steps
Bake the crusts, and leave to cool.
Make the 1st filling according to Tanja's recipe for the 1st filling :) and let it cool.
For the second filling, stir in the egg yolks and steamed sugar, then add the orange peel, mix the stock with the juice, then lightly add it to the egg yolks, and stir, and cook for about 5 minutes, until it thickens. add the whipped margarine and cheese.
For the third filling..from 4dl of milk take 6 tablespoons of milk, then mix in the pudding powder, and the density, and the sugar, and leave the rest of the milk to boil. Remove from the heat, and mix the mixture into the milk, then return to the heat a little more. to thicken, about 2 minutes ... then mix in chocolate cubes, then ground walnuts and hazelnuts, mix well, then cover with plastic moist foil, and leave to cool. When it cools, whisk in the whipped margarine with powdered sugar, cheese and rum aromas. Whisk everything well, and leave in the cold.
I think it would be most convenient to prepare this 4th filling first… put the cream to boil, then pour it over the white chocolate, do not mix..leave it to stand for about 10 minutes..then stir with a fork, then leave it in the fridge to stand, about 1 hour… then make butter with powdered sugar, then add a mixture of cream + chocolate, and mix everything nicely. Leave in the cold.
Then sprinkle the peel with orange juice and rum aroma, then stack, peel, 1fil, 2fil, 3fil, 4fil, then peel, etc ..
If you coat the cake with fondant (I used a recipe for fondant by schloss), coat the whole cake with a thin layer of some malmelade, for example from apricots, or oranges ... then leave it to harden, then coat.