"300 wonders" cake
I called it that because it all revolves around that number… On this site for 356 days, I met here for sure 300 dear people, so I thought 300 per hour and came up with this cake for my 300th recipe… jubilee… I give it to everyone from the bottom of my heart to you and I wish you all a pleasant summer… Enjoy 300% !!! :on)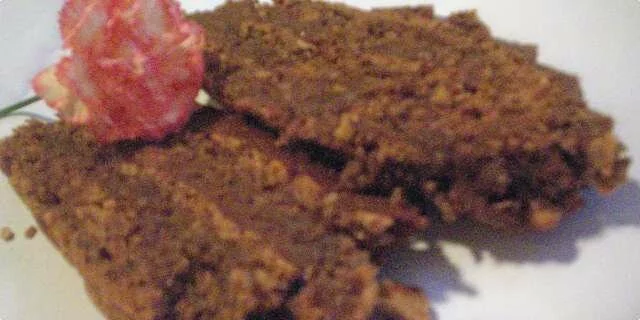 Preparation steps
First make the cream: Mix the egg yolks with the sugar well and steam them by adding the crushed chocolate. When the chocolate has melted and the cream has thickened, set aside to cool. Finally add the diced butter and mix everything well. Place in a cooler place while making crusts, or refrigerate for about 20 mins.
For the crust: Beat the egg whites well, gradually adding sugar. When the snow is completely solid, add a tablespoon by tablespoon of ground walnuts. Finally, add 3 tablespoons of cream (which has cooled), equalize everything well and bake on baking paper in the largest pan (from the oven) for about 30 minutes. at 200 ° C.
When the dough has cooled, cut into 3 equal parts (rectangles), carefully transfer to a tray / plate and coat each crust with cream (3 crusts and 3 layers of cream).
Sprinkle over with grated chocolate or ground walnuts and garnish with walnut kernels, or as desired.
It is best to spend the night or stay in the fridge for at least a few hours before serving.
N.B. These covers are brittle and break easily, but it is not a problem to "patch" because they are coated with cream. The crust is brittle on the outside and soft and juicy on the inside.
Serving
detail of the cake