30-minute baked lasagna from the pan
Phenomenal recipe ready in an instant. When you don't have much time to cook and you like lasagna, remember this recipe. The recipe is from the pages of Weight Watchers.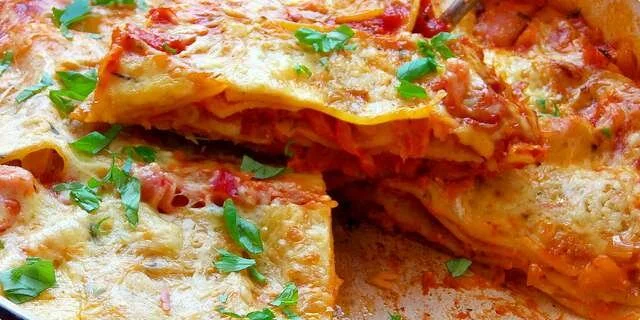 Preparation steps
Note: For the success of this dish you need two things: fresh lasagna sheets and a pan with a heat-resistant handle about 30 cm in diameter / if your pan is smaller the lasagna will be bigger and the preparation phase a little longer.
Put a little olive oil in the pan you have chosen for the lasagna. Finely chop the onion / cut it as finely as possible, the preparation time will be shorter / do the same with the garlic. Cut the pepper into cubes. Put onion, paprika and garlic in hot oil, simmer until everything withers and changes color a little, for about five minutes. Add chopped tomatoes, oregano and honey. Add salt and pepper. Continue to cook for about two minutes. Pour the tomato sauce into a bowl on the side and set aside until we are stacking the lasagna.
Fresh lasagna in stores are mostly rectangular in shape, cut them into thirds or cocoa as you think will fit your pan. Coat the lasagna with cheese spread. Cut the ham into cubes or strips.
Start stacking the lasagna: Put a spoonful of olive oil on the bottom of the pan. Place the lasagna, arrange them so that they cover the bottom of the pan and the greased part is on top. sauce. The last layer should be coated with lasagna. Return the pan with the lasagna to the heat, add water as needed. When you see the lasagna crackling slightly, reduce the heat to half and continue to cook for 8-10 minutes. Try with a toothpick after five minutes if the lasagna is cooked. Add more water if necessary. While the lasagna is cooking, preheat the oven to the grill program or just the top heaters. Remove the lasagna from the heat, sprinkle with grated cheese and bake them in the oven on the top guide for 5 minutes. to bake the cheese finely.
Serving
Sprinkle lasagna with chopped parsley or basil. Enjoy with salad or cooked vegetables.