# 3. Moroccan (Tagine) chicken
A classic dish from Morocco - chicken with lemon, onion and olives, which is baked in Tagine dishes (earthenware dishes with elongated lids), but in my case the dish is baked in an ordinary pan, covered in the oven. I completely changed the recipe because I didn't have lemons and olives, which I believe would give the dish a special flavor, as did the ginger I only use in cakes. In any case, my method of preparation was quite good enough for me.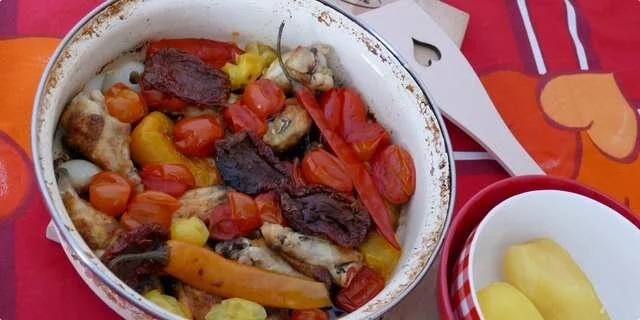 Preparation steps
Roast the chicken on a grill pan and arrange in a pan. Add other vegetables and spices and bake in the oven at 180 C, about 20 minutes, until the vegetables soften. Uncover, add spices and harissa (diluted with stock soup or tomato sauce). Harissa is an angry red spread from the Middle East. If you don't have it, add just a little liquid from the soup or tomato sauce. Cover again and return to the oven for an additional 20 minutes.