3 in 1 Strudels - cherries, apples and cheese
I ate strudel with apples, then with cherries, and I haven't baked it with cheese for a long time. Contemplating that dilemma, I remembered that old women's anthem - "we've got hips, we've got thighs, we don't discriminate against pies", so I decided not to discriminate today either. This is the first time I ate this stuffed apple strudel with my aunt Buba. Before her fillet and toppings, my strudel would somehow flatten out after baking and just lie on the plate without too much life in it. When Aunt Buba prepares a strudel in Rovinj, the cinnamon is heard up to Groznjan, and then down through Motovun and Beram to Pazin. There he somehow turns east, even Ucka can't stop him. This is how he reaches Karlovac, where the entire Smiciklasova Street coughs from a cloud of cinnamon over the city. And a couple of years ago, I heard on the news that half of Leo Tolstoy Street in Pancevo appeared under the cover of Buba's sugar pillar. I think it was just like this, unless I lied a little.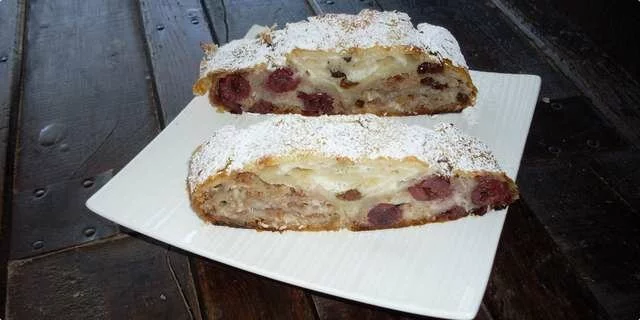 Preparation steps
First make a filling or coating. Mix eggs, yogurt, semolina, oil, baking powder, vanilla sugar and crystal sugar. Apple strudels: It takes three crusts per strudel. Coat a couple of tablespoons of fillet between the crusts. I put 5.
Sprinkle the last, ie the third peel after the spread filling with coconut, walnuts, raisins that you have previously soaked in rum, and finally grated apples to which you have added cinnamon to taste and drained the juice a little. Wrap the strudel and place it in a pan on baking paper.
Repeat with another cherry strudel. (I didn't put raisins in this part). Place the rolled strudel next to the apple strudel. Repeat the process with the third strudel with cheese (I didn't put walnuts in this one), wrap it and put it on top of the other two strudels, in the middle. Coat the strudels with the remaining filling on the outside and squeeze them a little to make them stick together. If you want the strudel to come out a little higher and in a triangle, use less filling and tighten it more when wrapping. I prefer the string.
Bake the strudel at 180 C for about 40 minutes.