3 in 1 dessert
With a few simple tricks, one biscuit and one simple cream turn into 3 effective desserts ... or simply choose the version that is your favorite ...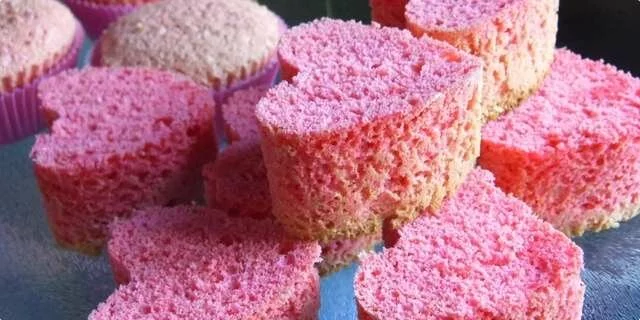 Preparation steps
Whisk the biscuit from the listed ingredients and arrange in baking tins as desired. I put part in heart-shaped silicone molds and part in muffin tins. Bake at 180 ° C for about 15 minutes. Allow to cool.
Cut the upper part of the cooled biscuit in the molds (except for the muffins), or flatten them. Cut this' 'excess biscuit' into cubes that you will soak in the punch sauce.
Whisk the butter with the sugar. Add cheese and lime juice. Whip the sweet cream and add it to the cheese mixture. Finally, lightly stir in the instant gelatin according to the instructions on the package. Cool well.
Mix the jam with warm water until you get a smooth mixture, then stir in the rum.
For version 1 I coated the muffins with punch sauce and garnished with cream and one wild strawberry
For version 2, I cut the biscuit hearts lengthwise. I coated the bottom half with the punch sauce, topped it with cream and covered with the other half. On top of a little more cream and the inevitable forest cheekbone.
And finally for version 3, I added the "excess" biscuit to the remaining punch sauce and stirred gently to absorb the sauce well. I put some cream in the glasses, soaked the biscuit and then the cream again.