2 in 1 (pizza + projara)
An interesting combination of flavors ready in an hour of work, from ingredients that we usually always have at home.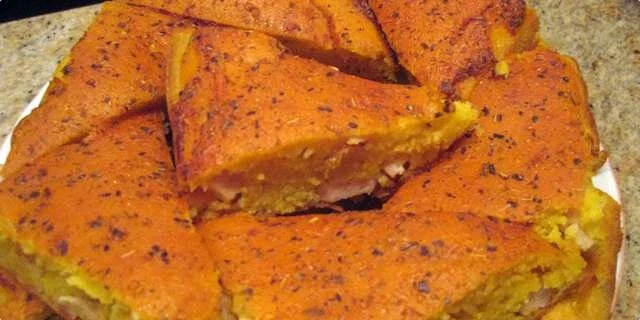 Preparation steps
Note This dough is suitable for various experiments. It all depends on taste and your imagination. You can use some wholemeal flour instead of polenta; you can add seeds, pickles, mushrooms, olives, any cured meat product and any cheese, as well as spice. Salt is not among the ingredients because it depends on the type of cheese and cured meat whether it should be added or not. So you can let your imagination run wild. Vegetable cheese and chicken breast were used here.
Turn on the oven and set it to 200 degrees. While the oven is heating up, prepare the dough.
Beat the eggs lightly, add the cheese, dried meat cut into small cubes and baking powder and mix well with a spatula.
Pour in the oil, add the flour and polenta and stir a little more. Finally, pour mineral water and stir a little more to get a homogeneous mass.
Line a baking sheet with parchment paper, hand out the dough and flatten it.
Bake for 10 minutes at 200 degrees. If the crust has caught, take out the dough, coat it with tomato puree or ketchup and sprinkle with oregano. Return to the oven and bake for another 20 minutes at the same temperature.