15 minutes for tomato soup unique and unrepeatable
An exceptional soup that is very easy to prepare and is ideal for these cold days.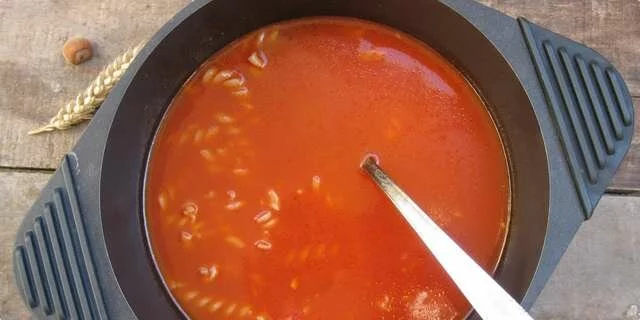 Preparation steps
For this soup, you need tomato juice, but thicker, water, olive oil or sunflower, garlic, ground spicy pepper, spiral macaroni, salt, pepper. I will give you here the measures for four rich portions, i.e. a full plate. If the tomato juice is thick (and I make it thick), the same amount of tomato juice and water goes. Put 8 dl of water with a teaspoon of olive oil to boil. Add 8 dl of tomato juice. When it boils, add two handfuls of pasta, salt and pepper to taste and cook for 3 minutes only. Put a teaspoon of olive oil in the pan and fry (for a few seconds) finely chopped two cloves of garlic or one larger one. Add a teaspoon of ground paprika to it and fry everything for a few more seconds. Pour the tomato soup and let it boil for 2 minutes only. You don't need it anymore. Allow 5 minutes for the soup to "rest", in fact to drink a little macaroni scent. If you like, you can add a little basil. And that's it. 15 minutes for tomato soup. Pleasant !!! PS Of course it is ideal for fasting!