104 years old!
Here's how I promised, I'm sharing this ancient recipe with you, and in fact there aren't any big differences from "modern" recipes, other than say the word pound, they mean whipped egg whites, it's cute to have something like that.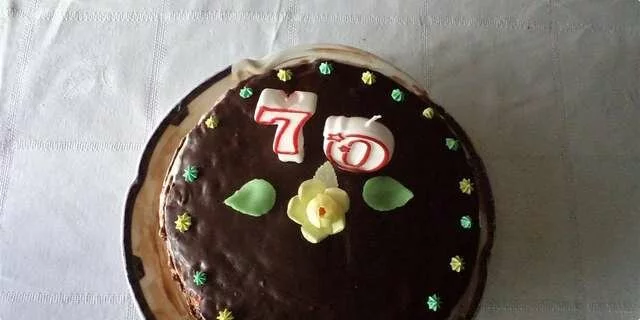 Preparation steps
The biscuit is made twice, and for one here is the procedure. Stir in 6 egg whites, add 6 tablespoons of sugar, mix well again, then add 6 egg yolks and a tablespoon of cold water, 2 tablespoons of cocoa, and 4 tablespoons of flour, a teaspoon of baking powder. Bake one and then order the other biscuit in the same way. For the filling, you need to mix one softened butter with 10 tablespoons of sugar, and while mixing, add one by one of the 5 egg yolks, and then 20 blankets of chocolate. Stir in 5 egg whites. Mix everything well and leave to cool so that the filling thickens. For the glaze you need: 2 tablespoons milk, 7 dkg. sugar, 6 dkg, butter 2 ribs of chocolate. First, melt the sugar in the milk and bring to the boil, then put the butter and chocolate in the hot, and stir until it melts, then pour over the cake. Be careful the quantities for the biscuit are doubled because you are making 2 biscuits!
Serving
Cut into nice circle clips and cover generously with whipped cream!