# 100 Shrimp in Sicilian
I'm celebrating the hundredth published recipe with this modified Jamie Oliver dish. I hope there will be at least a hundred more and I will continue to try your great recipes.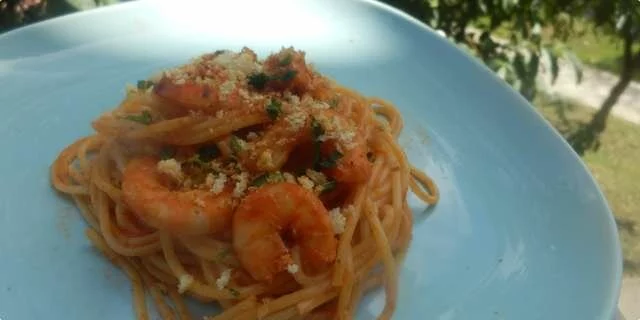 Preparation steps
Pangrattato: Grind old bread in a blender with olive oil and garlic. Put the crumbs in a pan over high heat and toast for a few minutes, stirring, until golden. Set aside.
Put the pasta to cook, and in another pan over a moderate heat, fry the chopped dried peppers and anchovies. Add cinnamon and saffron. After a minute, add the peeled shrimp and garlic, salt and pepper. Fry for 2 minutes.
Add the passata, a little sugar and lemon juice. Saute for a few minutes. Add the cooked pasta, along with a little cooking water to dilute the sauce.
Sprinkle the pasta on a plate with pangrattat and enjoy.