100 rolls
To make these rolls, you need good fitness preparation in advance, because exactly 100 rolls will come out of this measure - so a good start and let's see what we need: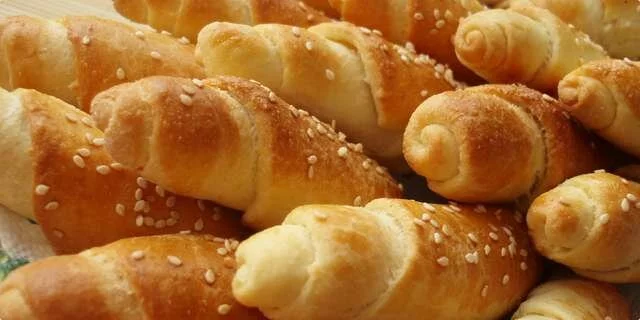 Preparation steps
Prepare the yeast in the usual way, with a little sugar and flour in half a cup of warm milk.
From all the above ingredients, knead a soft dough and let it rest for 30 minutes.
Separate small pieces (the size of a plum) from the dough and form balls, it will be easier for us to make rolls afterwards.
If you get tired of making balls, feel free to spread them into thin sticks and you will get bites.
If you have endured to the end and there are quite a number of balls on the table, just quickly separate each elliptically and wrap the bun like this.
Before baking, coat with beaten egg, and sprinkle with sesame, cumin or poppy seeds if desired.
Bake in a preheated oven at 200-220 C, about 20 minutes.
Serving
Since this is a really hearty recipe, you can make rolls in half measure… they are delicious the next day as well. The dough can be kneaded only with egg yolks, and the egg whites are left to coat. The rolls are crispy and more reminiscent of some snacks than classic rolls… pleasant snacking! :)