100 fine gingerbreads
At this time of year, gingerbreads are unavoidable… it smells of cinnamon and honey on all sides… Gingerbreads are one of the reasons why we love Christmas so much, although I prepare them all year round….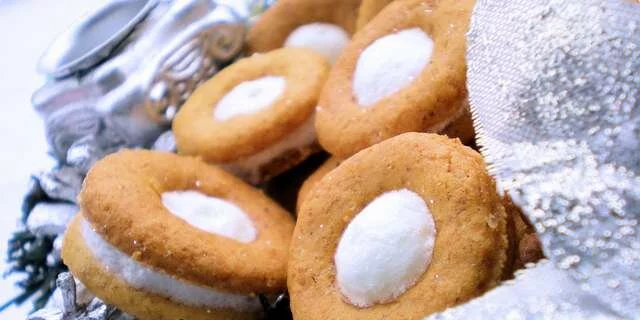 Preparation steps
From all the ingredients knead the dough. It will be a little sticky, but that's how it should be.
Sprinkle a ball of dough with 50g of flour, wrap in cling film and leave in the fridge overnight.
The next day, divide the dough in half (because there is a lot of dough) and roll out each half separately, to a thickness of 2-3mm.
Take out the desired shapes, so that one is whole, and the other, take out a smaller circle in the middle.
Bake at 150 C, until golden brown. (approximately 10 minutes, they bake very quickly, so be careful not to burn them)
Whisk the egg whites with the sugar into a firm sham.
Combine two gingerbreads with white, and press, so that the filling fills a small circle.
Leave the gingerbreads to dry, and to soften.procedureFine gingerbreads100 Gingerbreads by Maras
Serving
Gingerbreads need a few days to soften, but it's worth the wait. :) This is the amount for 100 gingerbreads, but if you cut them with a smaller mold, about like a bottle cap, then up to 200 of them can come out:) ...