100% chocolate chip cookies
I don't know if an introduction is needed after the title :))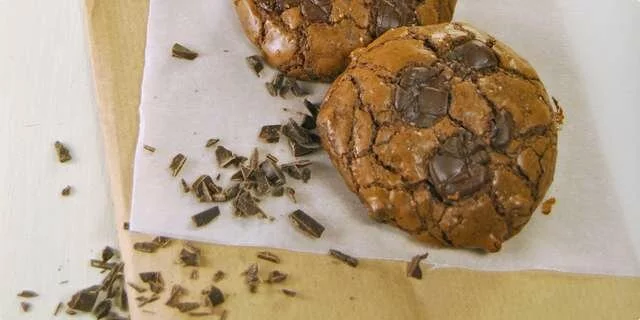 Preparation steps
Chop 220 g of chocolate and melt together with the butter (steamed or in the microwave), mix well to make the mixture even. Chop the remaining 150 g of chocolate into small cubes.
Mix the eggs and sugar with a whisk or mixer. Add the chocolate and butter mixture, then the flour you have mixed and sifted with the baking powder and salt and mix well. Add the remaining diced chocolate.
The dough is very soft. Grab it with a spoon and place a little spaced piles on a baking sheet lined with baking paper (I put a full tablespoon the first part, but they were quite large, so I made the second part smaller, see for yourself how you like it better). If desired, place 50 g of diced chocolate on top of the biscuits.
Bake the biscuits in an oven preheated to 160 ° C for about 18-20 minutes (depending on size). Remove the baking sheet from the oven, but leave the biscuits on the baking sheet for another 5 minutes, then carefully separate them from the paper with a spatula.