1) Crackers with parmesan and pine nuts; 2) Crisps
Easy to make, very tasty, crispy, crunchy, and quick-going.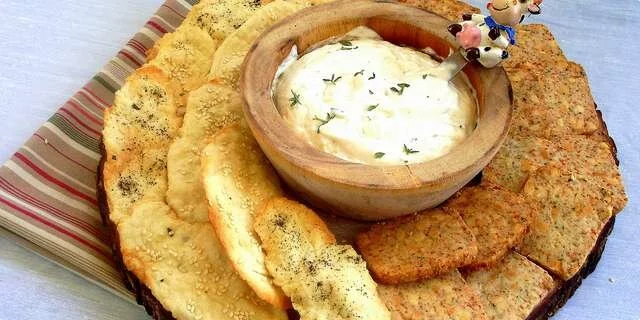 Preparation steps
1) Crackers with parmesan and pine nuts Pour flour into a bowl, add salt, dry mazurka, grated parmesan, and mix everything together. Now add room temperature butter to the mixture in pieces and roughly combine it with the other ingredients with your fingers. Finally, mix in the pine nuts.
Shake the dough on plastic wrap and shape it into a roll, rectangle or cube as desired - mine is 6 cm in diameter. The dough will be quite easy to shape. Wrap completely in plastic wrap, tighten slightly, and refrigerate for about two hours to harden. It can also be left in the freezer for an hour or two, it will be even easier to cut. The dough can be prepared the day before.
Cut into squares 0.5 cm thick. Bake at 190 C in a preheated oven, on a baking sheet lined with parchment paper for about 10-12 minutes. About 30 crackers are obtained from this mixture. They stay crispy for days, and are easy to freeze.
2) Crisps In a bowl, mix flour, salt, rosemary and baking powder. Pour oil and water into the middle, and combine all the ingredients into a dough with a rough wooden spoon. Turn it over on a slightly floured surface and knead it a little more - I mix it by hand only a dozen times.
Divide the dough into 6 parts, cover 5 with plastic foil, and divide the first part to be worked into into 5 balls. Now roll each ball out of baking paper into an oval shape as thin as possible - mine are 12 cm long and about 3-4 cm wide.
Brush each cracker with a little olive oil, sprinkle them with sesame and / or pepper, and transfer them to a baking sheet lined with parchment paper. Bake at 190C in a preheated oven until golden brown - it took me 10 minutes. These need to be a little careful not to burn. I got 30 crackers from this mixture. The tastiest are warm, they do not keep crisp for long.
Dip: Chop the garlic, mix it with thyme and other ingredients.