# 1. Chicken Jalfrezi from Pakistan
Delicious, spicy and unusual - a quick and inexpensive way to get a healthy lunch that you can adjust to your taste as you wish. The original recipe also used freshly grated ginger, coriander leaf and cumin, which I decided to omit and adapt more to my 'Mediterranean' taste - but I recommend that you do not omit the lemon peel, because it is the mild lemon aroma that gives this dish a special charm. ...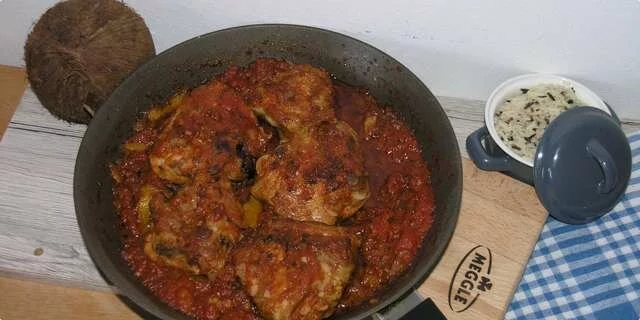 Preparation steps
Roll the chicken drumsticks or carabao well in a mixture of flour and spices: turmeric, red hot pepper, vegeta. Fry on both sides in heated oil and remove to a plate.
In the oil left in the pan, add the finely chopped onion, crushed garlic and lemon zest (peeled with a knife, grated) and stir for a few minutes at a moderate temperature until softened. Then add one can of chopped tomatoes and a bay leaf. Return the chicken that you removed to the plate to the pan, add the finely chopped parsley leaf (or a teaspoon of dry), cover and let it cook over low heat until all the liquid has evaporated, about half an hour with occasional stirring.
Serving
Jalfrezi chicken from Pakistan is traditionally served with rice. I have wild rice in the pictures. You can throw the lemon peel out when serving. She's only here for the aroma.