Zagreb steaks
Not so long ago, a typical Zagreb Sunday lunch would start with homemade soup, ajngemahtec, continue with a stuffed veal steak, with a side dish of rice-bizi, and for dessert - cream cheese with chocolate. Zagreb, of course!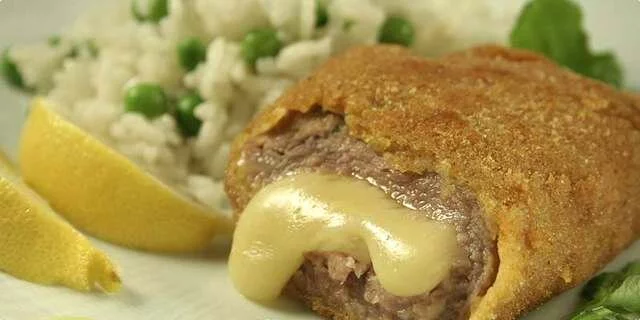 Preparation steps
Beat the sliced ​​steaks with a meat mallet and sprinkle with Vegeta.
Place slices of pressed ham and cheese on half of each steak. Fold the steaks and fasten the ends with toothpicks.
Roll the steaks prepared in this way in flour, beaten eggs and bread crumbs.
Fry the steaks in heated oil on each side for about 5 minutes.
For the side dish, cook the rice, but not all the way through, and drain.
Fry the chopped onion in butter, then sauté, basting with water, until the onion softens.
Add peas, half the amount of and about 100 ml of warm water. Cook until peas are soft.
Finally, stir in the rice, sprinkle with the remaining and add another 100 ml of warm water. Stir and cook for another 5 minutes.
Serving
Rizi-bizi pepper and serve as a side dish with a Zagreb steak.
Advice
You can beat the stuffed steaks well with a meat mallet. In that case, you don't have to attach them with toothpicks.