Warm salad
Barbecue and salad in one? Why not. The softened and slightly chilled grilled vegetables in a bowl with a lid and in an embrace with Natur for salad are just getting their real charm.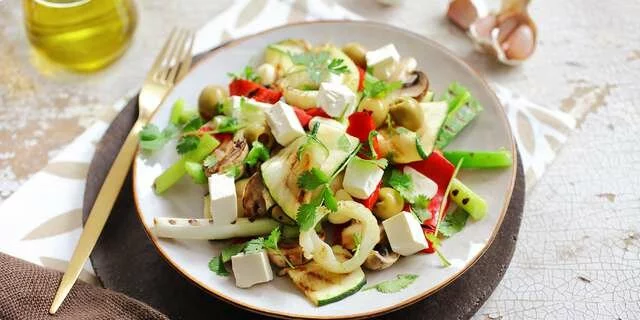 Preparation steps
Peel a squash, grate it and cut it in half. Cut the champignons in half, remove the ends with the zucchini and cut them lengthwise.
Just clean the spring onions well, and clean the fennel and cut it into slices.
Fry all the vegetables on a well-heated non-greased grill, then remove to cool briefly.
Cut the grilled vegetables into smaller pieces and place in a bowl with a lid. Add garlic, parsley, coriander, drained and washed olives and diced feta cheese.
Sprinkle with Natur for salad, pour over olive oil, mix well, let stand covered for at least 5 - 10 minutes and serve. Add salt and pepper as needed.
Serving
Keep covered until serving to allow the juices to soak up nicely.
Advice
You can further enrich the salad with sour cream.