Veal leek and potato soup
Quality ingredients always guarantee an excellent soup. Serve cooked veal with cream soup of veal stock, leeks and potatoes. Finally, add diced toasted bread and freshly chopped parsley. We wish you good luck!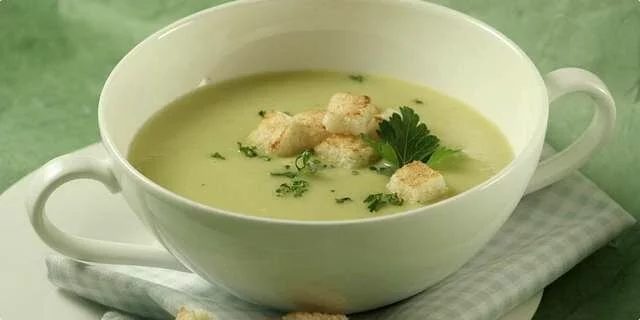 Preparation steps
Pour a liter of cold water over the veal, add and cook over low heat until the meat is tender.
During cooking, add more water to the soup as needed. When the meat is cooked, take it out of the broth and place it in a suitable container.
Fry sliced ​​leeks in butter.
Add diced peeled potatoes to the leeks and cover with a little broth in which the veal has been cooked.
Add the bay leaf and leek potatoes to the veal soup and cook for about 15 minutes until the vegetables are soft.
Chop the softened vegetables with a stick mixer, add the remaining veal soup, cream, wine, mix well and bring the soup to a boil.
If necessary, add a little more water, salt and pepper to the soup. Bring to a boil and sprinkle with chopped parsley.
Serving
Serve toasted bread cubes with the soup, and slice and serve the cooked meat.
Advice
Remove the bay leaf before chopping the vegetables.