Tuna with fennel
No one could resist tuna prepared in this way, and only 30 minutes of simple preparation separate you from that pleasure. With adequate wine and atmosphere, tuna with fennel could become a part of your Valentine's menu.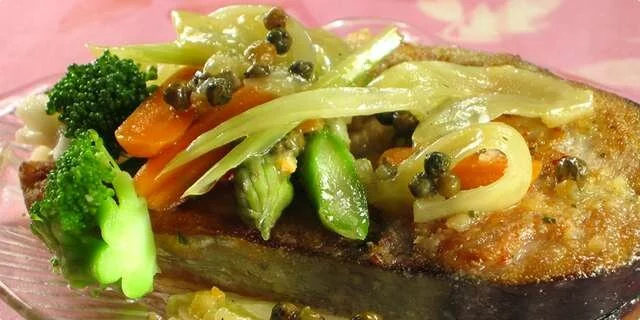 Preparation steps
Cook the side dishes in salted water, drain and place in a warm place.
Sprinkle the tuna steaks (2 cm thick) with Vegeta, roll in flour, and then fry in heated oil on each side for about 3 minutes. Take them out and put in a warm place.
In the same pan, briefly fry the sliced ​​fennel, add the green pepper, wine and chopped garlic and cook on low heat for about 2 minutes.
If desired, add salt to the sauce and pour it over warm fish steaks.
Serving
Serve tuna with fennel with cooked vegetables.
Advice
You can also prepare fresh salmon or bonito steaks in the same way.