Tomatoes Paradiso
A dish that is not cooked, and is prepared quickly and refreshes for a long time - as much in color as in taste. Although seemingly summery, it can be prepared at any time, either as a snack or as an appetizer.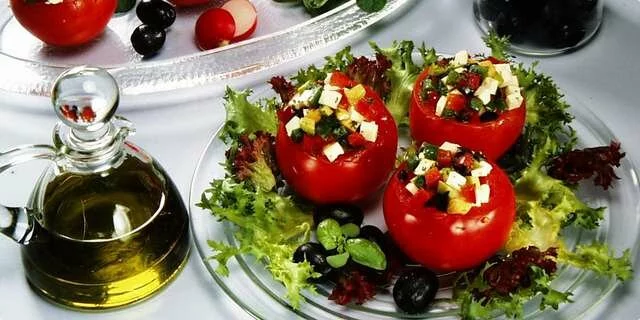 Preparation steps
Cut off the tops of the tomatoes, then dig out the tomatoes and clean them of seeds. Salt them inside and turn to drain well.
Cut the olives into rings, and the peppers and feta cheese into cubes.
Cut the avocado in half, remove the seed, peel it, cut it into cubes and drizzle well with lemon juice. Let stand for a few minutes.
For the salad dressing: add Natur to the water and lemon juice for the salad, stir and let stand for about 10 minutes.
Stir in olive oil and sliced ​​dill.
Put sliced ​​vegetables and cheese in a deeper bowl and pour over the prepared salad dressing.
Serving
Fill the tomatoes with the prepared salad and serve them on lettuce leaves.
Advice
If you want to eat a healthy meal outside the house, be in trend and fill tortillas with salad prepared in this way instead of tomatoes.