Stuffed roast in wine
With this unusual roast, the flavors of meat, fruit, spices and wine complement each other nobly. You can also replace wine with must in the fall, so this delicious, unusual and hearty dish will be even more aromatic.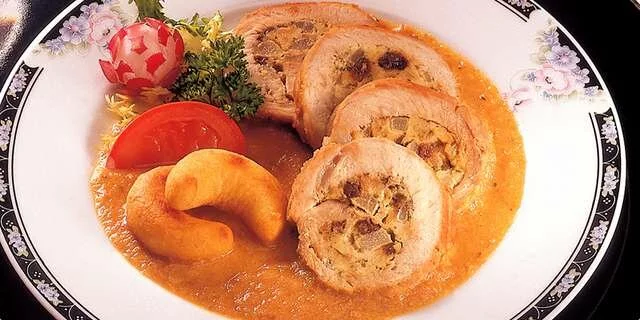 Preparation steps
First prepare the stuffing: cut the pears and plums (soak them if necessary) into cubes and sprinkle them with lemon juice. Also cut the buns into cubes and sprinkle them with 2 tablespoons of milk.
Whisk the butter (30 g) with the yolk and egg, then add the bread and fruit cubes. Season with salt and pepper, add chopped parsley and mix well.
Then prepare the meat: cut it lengthwise and dissolve like a book, so that you get a large steak. Then grow it well, pepper and sprinkle with Vegeta.
Arrange the stuffing on the meat and wrap it tightly in a roll. Tie it with string and add a little salt on the outside.
Fry the meat on all sides in a pan on well-heated oil. Separately in a pan, fry the bacon, onions and vegetables cut into smaller pieces, then add everything to the meat. Drizzle with a little vinegar and wine, add bay leaf and peppercorns.
Cover everything with aluminum foil and place in a preheated oven at 200 ° C for about 60 minutes. Towards the end of baking, remove the foil and bake a little more, and if necessary, pour in the remaining wine and water.
Remove the roasted meat, remove the thread and cut into slices.
Serving
Arrange the sliced ​​meat on a heated plate and pour over the strained sauce in which you have mixed the butter. Serve it with potato dough skewers.
Advice
This dish can be prepared several hours before baking.