Shrimp risotto
You can also prepare risotto with shrimps with frozen shrimp tails, but then do not simmer them or cook them for a long time, but just gently mix them frozen into the cooked, very hot rice.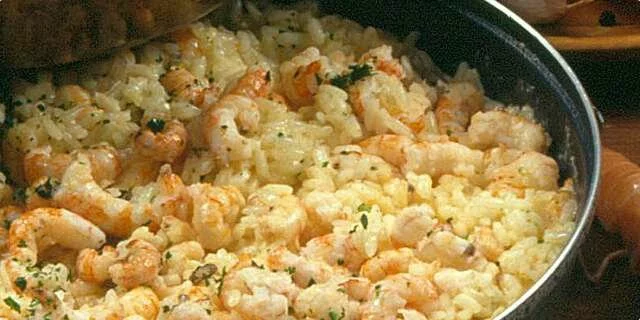 Preparation steps
Put the rice to boil in salted boiling water. Cook it halfway and drain. Save some of the liquid in which the rice was cooked.
In a wide pan, lightly heat the oil and fry the chopped garlic briefly. Then add the washed and dried shrimp tails. Add salt and fry them, then pour cognac over them after a short simmering. Light and extinguish by pouring wine.
Bring to the boil, then stir in the prepared rice, and cook, stirring occasionally, adding the liquid in which the rice was cooked.
Towards the end of cooking, stir in the sweet cream, butter and chopped parsley. Pepper and mix everything well.
Serving
Serve the risotto with shrimp warm, and sprinkle with grated Parmesan cheese if desired.
Advice
You can add raw rice to sautéed shrimp, then continue to simmer, basting with the shrimp shell base.