Omelet roll
A warm omelette roll as a stand-alone meal, and a cold one cut into smaller pieces - for socializing it is equally delicious.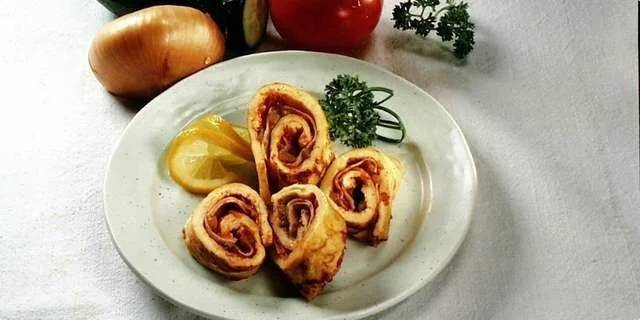 Preparation steps
In a wide pan over heated oil, briefly fry the slices of ham, remove them and leave in a warm place.
Beat eggs, add flour, sweet cream, melted butter and a pinch of salt.
Pour the beaten eggs on the heated fat and bake on each side for about 1 minute, then remove to a board.
Coat the surface with ajvar, arrange the roasted ham and roll.
Serving
Serve the egg roll warm with a fresh salad.
Advice
You can wrap the cooled roll in cling film and leave it in the fridge for about an hour and serve it cut into small snacks for surprise guests.