Mexican squid salad
This salad will be especially colorful if you also use colorful, red-purple Mexican beans. It is also available in cans.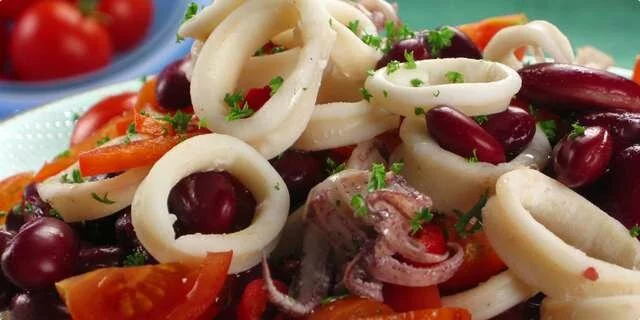 Preparation steps
In half a liter of water put a bay leaf, 1 onion cut into quarters, 2 sprigs of parsley and bring to a boil. Add the squid cut into rings and cook for 20 to 25 minutes. Then drain them and let them cool well.
Meanwhile, peel the tomatoes, clean them of seeds and cut them into cubes. Peel a squash, grate it and cut it into thin slices. Peel a squash, grate it and chop finely.
Finely chop the remaining parsley and onion, add the drained beans and mix everything well.
Mix Natur salad with water and lemon juice and let it stand for about 15 minutes.
Then mix in the oil and dressing, pour over the salad just before serving.
Serving
You can serve Mexican squid salad on a corn tortilla.
Advice
When preparing a salad dressing, you can replace part of the lemon juice with wine vinegar.