Lentil soup with mushrooms
With the soup prepared in this way, no one will even notice that the meat is missing. The soup is great if you stick to a vegetarian diet or just want to eat healthy - without giving up.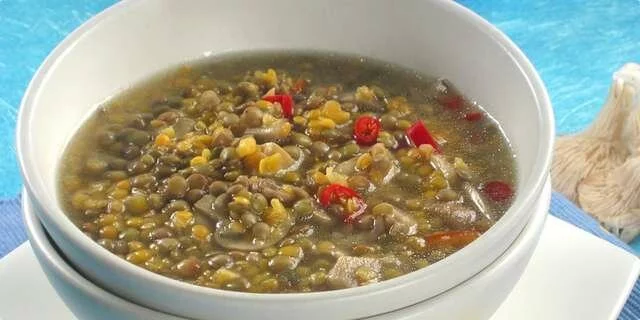 Preparation steps
Soak the cleaned and washed lentils in cold water for 2 hours, then cook in the same water until soft.
Cook the red and green lentils separately.
Shortly fry the onion and coarsely chopped mushrooms in the margarine, cover with water and simmer.
Add the cooked and strained lentils, bay leaf, to the half-stewed mushrooms and pour over the water. Cook for another 15 minutes.
Stir in the chopped dry red pepper, crushed garlic and the juice of half a lemon. Simmer for 2-3 minutes on low heat and add salt if necessary.
Serving
Serve the warm soup sprinkled with sliced ​​basil.
Advice
Slice the remaining half of the lemon and garnish the soup with them.