Homemade borscht with Vegeta
In addition to the Moscow MHAT Theater, there is a club-restaurant worthy of their art. Chef Alexander Tikhonov inspires old Russian dishes with inspiration and creativity, and he delighted the cuisine team with his version of the famous Russian borscht dish.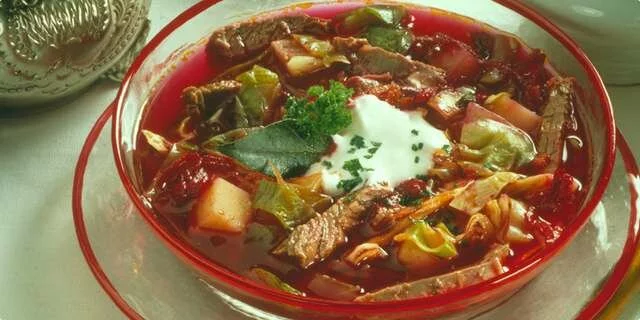 Preparation steps
Put the meat in about 2.5 liters of water. Add Vegeta, beef cube and a little salt. Let it boil a little. Periodically remove the foam from the surface.
Cut the cooked meat into oblong pieces.
Peel a squash, grate it and put it in a little water (to which you have added vinegar) and cook for 20-30 minutes.
Cut the cabbage into pieces or noodles, the potatoes into cubes, the onion into cubes, and the carrots into large pieces. Put the cabbage in the meat broth and cook for 10-15 minutes, add the potatoes and continue cooking.
Saute onions and carrots in warmed butter, add tomato concentrate and sauté everything together, then mix in the cabbage together with the beetroot. Season with pepper, bay leaf, sugar and chopped garlic.
Finally add the sliced ​​meat and boil everything together briefly. If necessary, dilute the borscht a little, and add a little vinegar if desired.
Serving
Pour the borscht into a suitable soup or serve in small portions. Sprinkle with chopped parsley and put a tablespoon of sour cream in a portion.
Advice
The characteristic color of borscht depends on the cycle, so it is good to choose the one with a more pronounced color.