Gris dumplings in soup
Gris dumplings are a festive addition to any soup. Generous and soft they simply melt in your mouth. For all true soup lovers and those who are yet to become one. :)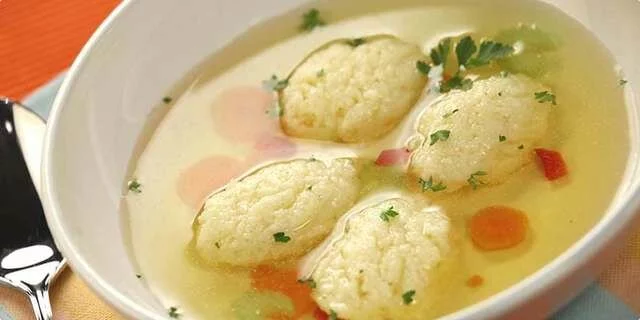 Preparation steps
Add butter and wheat semolina to the egg until you get a soft mixture.
Stir in salt and baking powder, then let the mixture stand for 30 minutes (without stirring).
Meanwhile, put sliced ​​vegetables in the water and when the water boils add the beef cubes and cook for 10 minutes. If necessary, add more salt and pepper to the soup.
Using a spoon, grab the spoons (without stirring the mixture) and put them in boiling water (they will increase in size 2 times during cooking).
When you remove all the spoons, cook them over low heat in a covered pan for about 6 minutes.
Sprinkle the soup with parsley and let it stand covered for another 4 minutes (without stirring). Gris dumplings must be large and soft.
Serving
Serve the soup warm.
Advice
If the semolina semolina mixture is too thick when mixing, add a teaspoon of water.