Gazpacho (Spanish cold soup with vegetables)
Originally from Andalusia, this cold tomato-based soup has gained popularity not only in Spanish cuisine but all over the world. Try it, it is truly refreshing on hot summer days!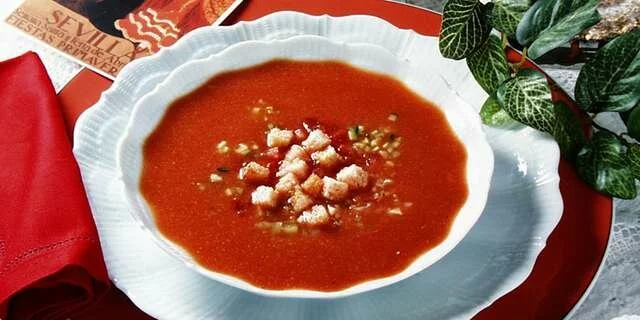 Preparation steps
Boil in 800 ml of water and cool it. Cut the bread into pieces and soak with a little prepared soup with Vegeta.
Peeled peppers, cucumber, onion and tomato cut into cubes. Then chop the vegetables, add soaked bread, garlic, olive oil, wine vinegar and chilled soup with Vegeta. Mix everything well so that you get a homogeneous mixture.
Place the resulting gazpacho in a suitable bowl or soup, season with freshly ground pepper and add salt as desired.
Leave covered in the refrigerator for about 3 hours to cool well.
To garnish the gazpach, prepare the following ingredients just before serving: finely chopped tomatoes, onions and peppers. Also cut the bread into cubes and fry it in a little butter if desired.
Serving
Arrange sliced ​​vegetables and bread separately in small bowls that you arrange around a bowl of chilled gazpach.
Advice
You can also serve it in glasses as a cocktail, with vegetables stabbed on sticks and placed on the glass.