Dalmatian beef soup
Southern Croatia will cook chicken much less often than northern Croatia, and it will be obligatory to add tomatoes to beef. Even the most airy Dalmatian soups will be aromatic and strong, and imaginatively shaped pasta will be cooked in them.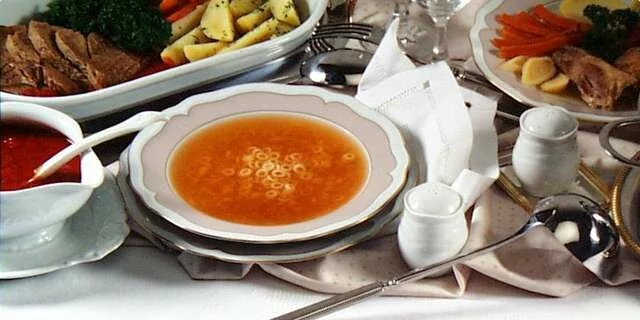 Preparation steps
Pour lukewarm water into the pot and put the meat to boil.
As soon as the soup boils, add salt, peeled root vegetables (celery, carrots and parsley), a few grains of pepper and onion, which you have previously halved and roasted on the stove.
Then add the tomatoes, peeled potatoes, cabbage leaf, and celery leaf, then cover. When the soup boils again, reduce the temperature, then cook gently for about two hours.
When the meat is soft, pour a little cold water to clear the soup. Take out the meat and strain the soup through a thicker strainer, then cook rice or pasta in it.
Serving
You can serve the soup warm, with the addition of sliced ​​meat and vegetables.
Advice
To keep the soup clear, boil the meat for the soup briefly beforehand (blanch), then rinse under running water and prepare further according to the recipe.