Clear vegetable soup
The habit of cooking soup should become as common as possible, as few things are as invigorating as a plate of hot vegetable soup. Don't know what a "Royal Mix" is? A fine blend of broccoli, cauliflower and baby carrots.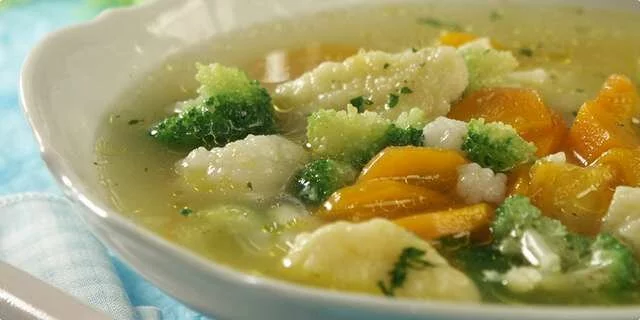 Preparation steps
Fry the chopped garlic briefly in the oil mixture.
Add the mixture of frozen vegetables, diced zucchini, and 500 ml of water. Cook for about 10 minutes.
Mix the egg with the flour, add a little salt and pepper, and mix into a thick dough. Let it stand for about 5 minutes.
Add another 500 ml of water to the cooked vegetables, and when it boils, gradually stir in the spoons with a spoon.
Continue to cook the soup for another 5-8 minutes.
Serving
Sprinkle with sliced ​​basil and serve.
Advice
You can prepare the spoons with a mixture of sharp and smooth flour in equal proportions.