A summer treat
The summer treat is the younger sister of the biscuit cake, and it is adorned with walnuts, apples, bananas and pudding. For all those who are reluctant to prepare biscuits, petit beurre biscuits do not fail, and the classic homemade cream will be a great replacement for pudding.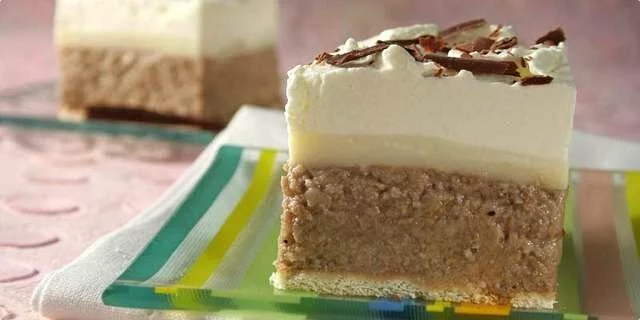 Preparation steps
Arrange 100 g of biscuits in a baking tray (20 × 30 cm).
Grate apples and bananas (on a fine grater), add walnuts, 150 g of ground biscuits, rum and sugar. Stir and spread over stacked biscuits.
Mix the pudding powder with 2 tablespoons of sugar, add 6 tablespoons of milk and stir. Bring the rest of the milk to a boil, add the whipped pudding powder and cook for 1-2 minutes, stirring.
Stir the butter into the hot pudding and pour over the fruit and biscuit mixture. Allow to cool.
Pour the required amount of water into a tall bowl, add the contents of the bag of whipped cream and mix with an electric mixer (maximum speed) to the desired strength. Spread the whipped cream over the cold pudding and sprinkle with the chocolate shavings.
Serving
Serve the well-chilled cake cut into cubes.
Advice
The biscuit base will soften from the filling. If you want to speed up the process, you can soak the biscuits in milk.