A cake with apples and walnuts
This is a classic cake, full of flavor, hearty and easy to prepare. It is ideal for cold days with hot tea or coffee. It is especially dear to me, because my mother made it on Sundays and it was known in our country as "Batin kolac". Simply - the stake of my childhood. And so let this be my first published recipe.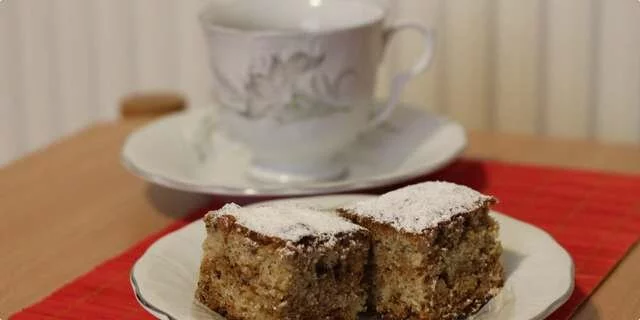 Preparation steps
Peel and grate the apples, then set aside.
Whisk together the eggs and sugar, then add the oil and jam. Stir a little more to even out the mass.
Add flour and baking soda, stir a little more, and finally mix walnuts and grated apples with a food processor.
Pour the mixture into a baking tray lined with baking paper. The dimensions of the tray are 40 x 23cm. Bake at 180C, approximately 30-45 minutes depending on the oven.
Serving
Cool the cake, cut it into cubes and sprinkle with powdered sugar if desired.