A cake with apples and walnuts
Simple and nice cookie, lightly drizzled ..... And made with great love for my dad, who doesn't like cakes, cookies with fillings, etc .... but just these cookies, which are drizzled :))))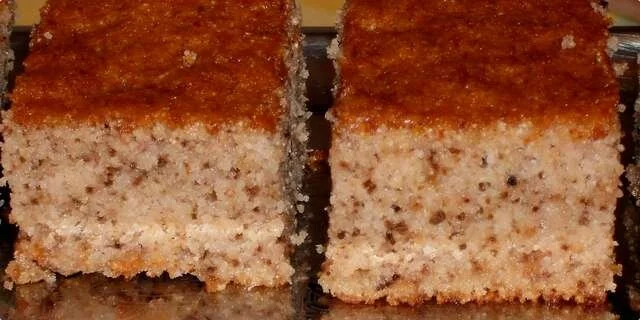 Preparation steps
Eggs should not be shared. Whisk the eggs with the sugar until you get a frothy mass, slowly add the oil and stir ....
Mix the flour, pzp and semolina and add to the mixture and stir a little again, now add the walnuts, stir a little and finally add the grated apples. Mix everything together. Shake in a greased and floured pan. Bake about 35 mi at 190 *
Boil the agda and cool, this can be done before the stake is placed in the oven.
When the cake is baked, leave it for a few minutes and then pour cold agave over it.
NOTE: This cake is not as juicy / drizzled as potpišanja or Banja Luka baklava, if anyone wants it to be more juicy, let them cook more agde.
Serving
My salts were 2dcl, and you can take the ones for white coffee. The only thing that matters is that it is the same salt for all the ingredients.