A cake with apples and cranberries
This cake is prepared quickly and most importantly you do not need a scale, everything is measured with salt.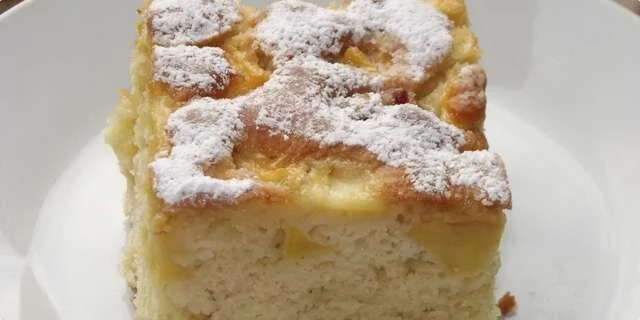 Preparation steps
Put eggs, vanilla sugar and sugar in a deeper bowl. Mix until everything is nicely combined. Then add oil and milk and mix again. Finally, add flour mixed with baking powder, and mix again. You will get a similar mass as for pancakes a little thicker.
Peel the apples, cut them into cubes. Add 1 tablespoon of flour, mix everything nicely, and add to the previous mass. Add the cranberries and mix everything nicely with a spatula until it is combined and combined.
Line a baking tray with parchment paper. Shake the mass, then smooth the surface or simply peel the tray off the table and you are done. Place the oven in a preheated oven and bake at 200 degrees for 35-40 minutes.
Take the baked cake out of the oven and leave it to cool. Then remove the baking paper and return the cake to the same baking tray (do this carefully, because the cake is soft). Sprinkle with plenty of powdered sugar, cut into cubes and serve. tasty.
Pleasant!
Serving
It goes great with fruit yogurt.