A cake with apples and cranberries
Apples and cranberries give you a wonderful taste. Serve this cake with your family or friends, with tea salt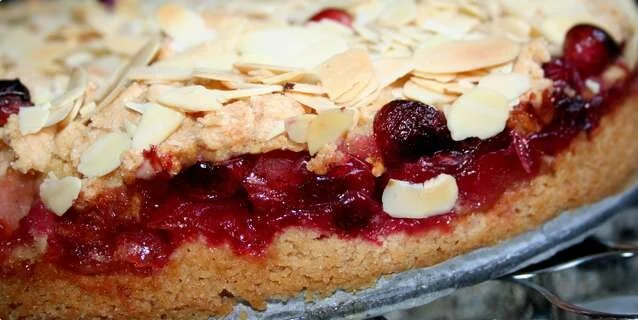 Preparation steps
Preheat the oven to 160 * C.
Lightly grease a cake tin, 20 cm in diameter, or if you do not have a mold with a stick on the side, a simple mold of the same size, which you have covered with foil and sprayed with baking spray.
Peel and clean the apples, then cut them into cubes, you need 375ml.12 small cranberries to separate to the side and the other cranberries cut in half, then mix them with apples.
Put the flour in a larger bowl and add the baking powder, sugar and salt, mix everything well. Whisk the eggs very lightly with the extract or vanilla. Add them with melted butter to the flour mixture and mix well. The dough will be very thick.
Pour 2/3 of the dough into the mold and flatten it well. Pour the fruit over the dough and spread it everywhere, even to the edge of the mold. Take the rest of the dough with your fingers, flatten it a bit and put it over the fruit. Leave the fruit protruding from the dough somewhere. Cranberries that you left aside, toss over the dough, then sprinkle with almonds in the leaves. This texture is very dry, the liquid will get from the fruit during baking.
Bake in the middle of the oven for about 75 minutes or until the stick, which you previously hurt in the middle of the cake, comes out clean. Cool the baked cake in the mold for about ten minutes, then take it out of the mold and leave it on the wire to cool completely.
Cut the cooled cake with a slotted knife and serve it with coffee or tea
The cake can stand for one day at room temperature, the rest can be packed and frozen for up to two weeks.
Bon Appetit !!!!
Serving
Recipe from Food and Pizza