A cake with an apple in a jar
Another version of apple cakes in a jar. I've already posted one called "Gift Cake with Apple". This version is equally fine, and slightly different in ingredients. The stake can stand closed in a jar for up to 6 weeks. I like to have things like this somewhere on the sidelines, so when you suddenly need ... hocus pocus and here it is :)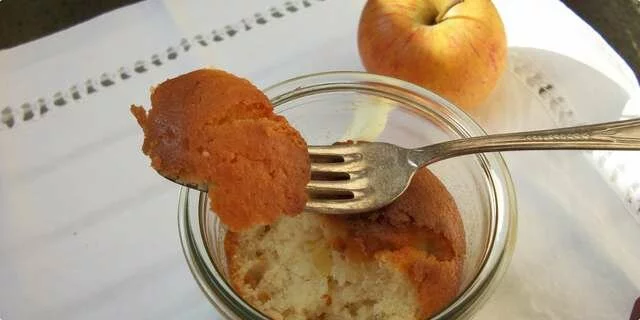 Preparation steps
Peel the apples and cut them into smaller cubes. Mix with lemon juice and zest (lime for me).
Grease the jars a little and sprinkle with flour.
Mix all other ingredients, except apples, in a bowl and mix with a mixer for 2 minutes. First very briefly at the lowest speed and then boost to the strongest.
Add apples to the dough and mix. Fill jars with the mixture, no more than half, because the stake will grow during baking. Bake in open jars, in a preheated oven, at 180 degrees for 30-35 minutes.
Remove the baked cake from the oven and close the jars while it is still hot.
When cool, store the jar jars in a darker place. It can stand for up to 6 weeks.