A cake with amulets and peaches
Remember the tree you climbed as a child and ate more unripe fruit? Remember those pits you could never completely clean? Remember how those fruits were used to shoot each other? Throughout our region, they call it by different names: wild plum, cibor, cuborić, ciborica, ciburin, generic, džanarika, mirobalana, grezdelija, zerdelija, zezdalija, rezdelija, driskulja, škorica, šljivić ... I struggled a lot for this cookie because amulets are not easy to clean and the cake is above all simple, but very juicy, and healthy ... I share it with everyone with the hope that you will try it and enjoy remembering the days when we were little :)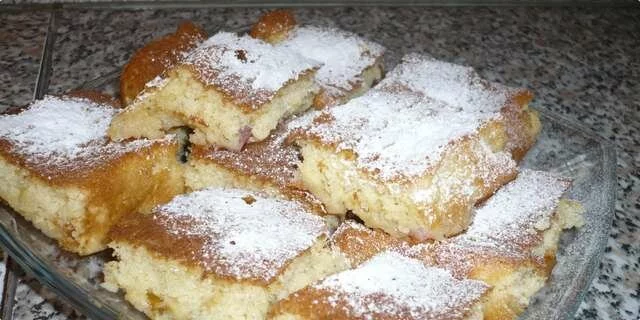 Preparation steps
Mix the eggs with the sugar, add the flour that we previously mixed with the baking powder and stir. Add milk and oil and mix well again.
We wash the amulets and remove the stones, peaches, too, we wash and cut into pieces. We put the fruit in a baking tray on which we put baking paper and pour the mixture over it.
Bake the cake at 180 * for about 30 minutes. Finally sprinkle with powdered sugar.