A cake with 7 days croissants
Simple, creamy and puuuno has it;)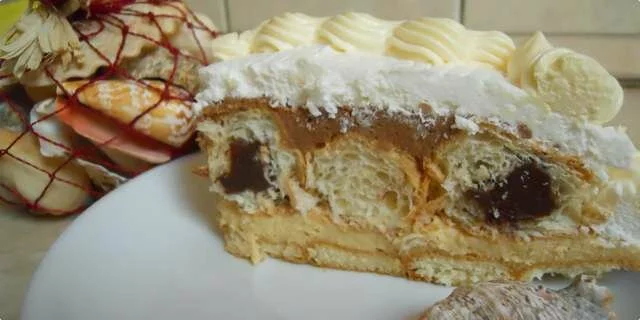 Preparation steps
In a little milk (1 liter), mix the puddings, thickener and sugar and cook in the rest of the milk.
When the filling has cooled, whisk the margarine to a froth, add the filling, then cut it in half. One part remains yellow, and in the other we put melted chocolate.
Dip the plasma into the milk and arrange on a tray. We put a yellow filling over it. Then, dip the croissants (arrange, one black, one yellow, to be colorful) and arrange them on the yellow filling. Coat the brown filling and over two layers. Whip the whipped cream if you want to decorate with a decorating syringe.
Serving
If your filling is thin, feel free to add ground Plasma until it thickens as much as you want. Pleasant.