A cake that sighs for chocolate
Quick, tasty and easy. And the taste is pure enjoyment…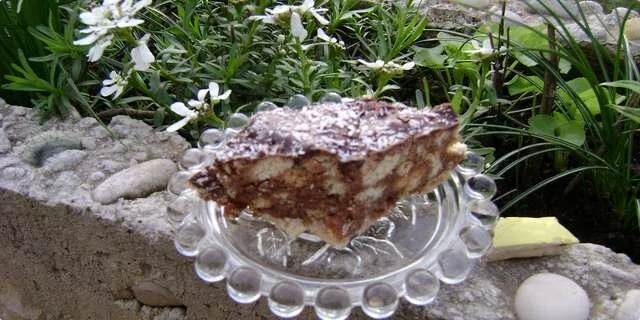 Preparation steps
Crush the biscuits, or grind one part completely and crumble the other.
In any case, make sure that the pieces are neither too big nor too small, because it is nice when they are seen later in the cross section of the cake.
Whisk eggs and sugar in a steamer.
Remove from the steam and add the margarine to the heat.
Add two chocolates and make with a mixer.
As the chocolate melts it will be easier to stir, it is a little harder at first.
Combine the cream with the biscuits. Mix well.
Place the wafer on the bottom of a deeper tin, and coat with chocolate and biscuit cream.
Melt one remaining steamed chocolate with a little oil and spread on top.
Garnish with coconut, or maybe without.
Serving
Allow to set well and cut into slices.