A cake that grows in cold water
I've wanted to show you this for a long time, but it's never my turn. Today I accidentally remembered, so as I needed some bread for dinner, the choice was this cake.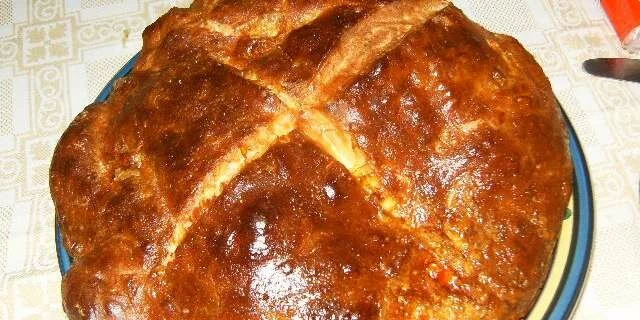 Preparation steps
Put yeast with sugar in warm milk to sour.
When it is ready, pour the flour into a mixing bowl, add oil, sour yeast, and 1/2 of a forked egg. Knead a homogeneous dough.
Wet a cotton cloth and put the dough on it. Tie a cloth with the dough, put it in a bowl and pour cold water. When the dough comes out it means it's done.
Pour water from the wangle, untie the cloth and return the dough back to the wangle, mix and place in a round greased pan.
Shape the cake, coat with the other half of the beaten egg yolk and bake in a preheated oven at 200 degrees for the first 20 minutes, then increase the heat a little and bake for another 10 minutes.
Serving
The recipe is from my neighbor's old recipe book. cross section