A cake that doesn't bake
..or a cake that is cooked .... Another recipe obtained from Dragica from Slovenia ... Simple, but very fine .... You can make it with almonds, walnuts, poppy seeds, coconut .... Thank you Dragica !! !!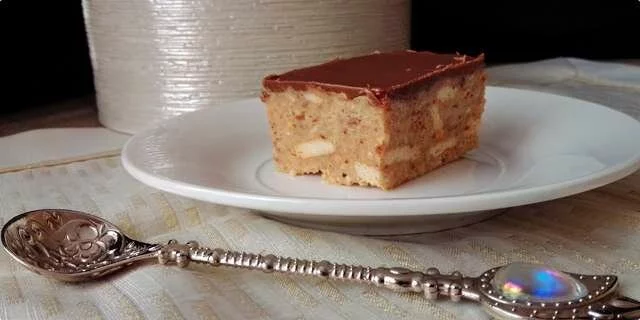 Preparation steps
We grind the biscuits and tear some of them.
For the cream, put milk with sugar and ground almonds to boil. Cook for about 5 minutes, then cook one vanilla pudding mixed with a little sugar, rum sugar and a little milk. When the cream is cooked, remove from the heat and add margarine and mix until the margarine melts. .
Mix the cooked cream with the broken and ground biscuits and mix well. Put it in a small pan and smooth, ie flatten.
Pour over the chocolate glaze as desired. We have a ready-made ganache topping that I just melted on steam.
Let the cake cool well before cutting.