A cake that always succeeds !!!!! Really...
Definitely the most beautiful cake! Experienced cooks will knead it with their eyes closed and beginners without any problems! It just always works ... try it you won't regret it :)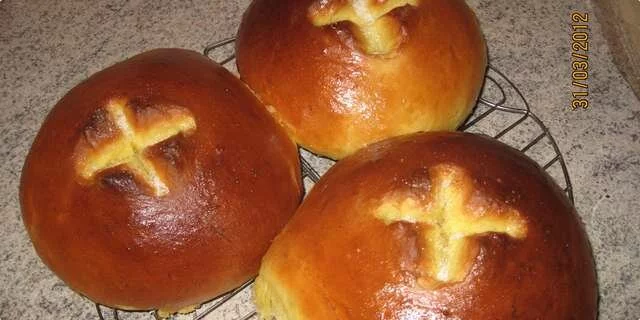 Preparation steps
Put a cube of yeast in a little milk to sour. I also put a little sugar. Put butter, sugar, salt and natren in the rest of the milk. Put on the fire until the butter melts. Separately beat eggs with 2 vanilla sugar and orange juice. Put about 1/2 kg of flour in a large bowl. Add a bag of yeast, baking powder and lemon zest. Stir a little. Make a depression in the middle and alternately add milk and eggs. Add the flour little by little and knead. I like a wooden cooker, but you can also use a mixer. You should get a nice soft dough that does not stick to your hands.
Let it double: It goes fast in about half an hour! Now do what you love the most..I love these but be up to the kids for Easter! When you have made the cakes, leave them to soak a little more. Again about half an hour! You can spread them on the outside as you wish. I melt 1 v. Sugar in a little milk and spread it just before I put them in the oven. I also cut them then. If you don't want them to crack, try shorter and deeper cuts :) 180 but every housewife knows her oven best. I don't need to cover it with foil so that it doesn't burn.
Note: You can use any artificial sweetener and even those tablets. It is important that the ratio is 250g of sugar. I put 1 1/2 flour because that's about it but it depends on the flour again :) I almost forgot! If you want this shine, then put a few drops of oil in the remaining spreading milk and spread it on the baked cakes!