A cake made of various fruits
Apricots, plums, blueberries, currants… ..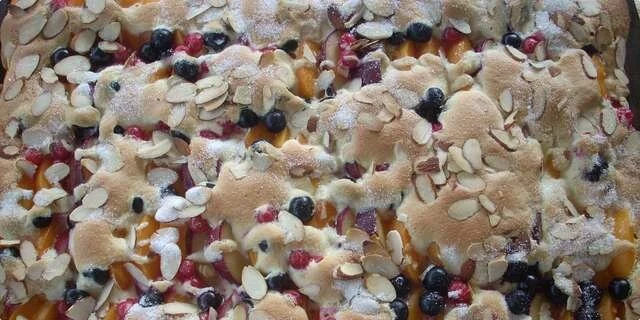 Preparation steps
Put cheese, milk, oil, zest and lemon juice in a bowl. Add sugar and vanilla sugar. Mix everything well, and add flour mixed with baking powder. Knead a smooth dough. Lay parchment paper on a baking sheet and roll out the dough.
Wash the fruit and put it to drain well (I used apricots, plums, blueberries and currants this time). I always use what I have in the house. Arrange the fruit in thick rows on the dough. Sprinkle with sugar.
Separate the eggs for the topping. Beat the egg whites into a stiff batter and add the sugar and vanilla sugar, stirring constantly. Add egg yolks. Add flour to the snow and mix gently. Apply evenly on the fruit
Sprinkle with almond leaves. Bake at 200 C or 390 F. Cut when cool.
Serving
I cut this cake with an electric knife so that the fruit does not fall off the dough.