A cake in a can
... CAKE IN A BOWL .... very simple and fast..for a second ...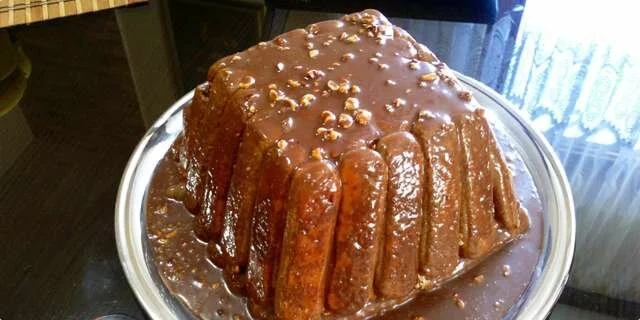 Preparation steps
Heat the chocolate milk. Take any deeper bowl and line it with cling film. Dip the biscuits (currently, not standing) in warm chocolate milk and arrange them on the walls of the bowl, filling in any gaps.
Mix 450 ml of sweet cream into the icing. Add lukewarm melted gelatin to it, continue to mix, then add cherries (drink or leave the compote for something else) and ground pistachios. Stir with a food processor and pour into a bowl lined with biscuits.
"Close" the bowl by lining up next to each other, soaked in chocolate milk, biscuits, again filling the entire space. Return the ends of the cling film to the inside of the bowl and leave in the fridge for about 1 hour.
Bring to a boil the milk, 50 ml of sweet cream and butter. Pour the hot mixture over the chocolate and cool while stirring.
Take the cake out of the fridge, turn it upside down on the cake base, remove the bowl and cling film, and pour over the chocolate icing.
Serving
Serve chilled ... it's very refreshing ...