A cake from the pan
Speed ​​cake from the pan, even with apples ... there is no heating of the oven and unnecessary consumption of electricity. You need a pan with a flat lid and the cake is made in an instant.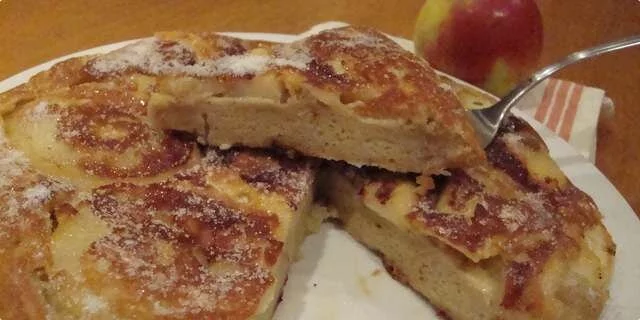 Preparation steps
Take two bowls in one, mix flour, sugar, cinnamon and baking powder. In the other, lightly stir the egg yolks with milk and butter. With light mixing, combine these two mixtures into a smooth dough. Cover and leave for 30 minutes.
Peel an apple, grate it and cut it into rings.
Whisk the egg whites with a pinch of salt and mix lightly into the egg yolk mixture.
Take a frying pan approx. 24 cm in which we will bake the cake, grease it with a little butter, arrange the apple circles in approximately 6-7 rounds and pour the dough over them, reduce the temperature and bake for approx. 15 min. until the dough becomes firm.Then arrange the rest of the apple circles on top sprinkle with vanilla sugar.Now take a flat suitable lid cover from above and turn the pan upside down so that the stake is now on the lid.
Put the pan back on the stove, put some butter again and slowly shake the cake to bake for another 10 minutes. Make sure that the temperature is not too high so that the apples do not burn.
Take the stake out on a tray and enjoy it. Now I've complicated it and it's basically very simple. It's done according to the "Rösti" system.
Serving
I found the recipe in a newspaper. I simply know how to make Swiss rösti.