A cake for voracious neighbors
This recipe is very popular and much tried by hundreds of members from the Slovenian site Kulinarika.net from where I downloaded it. And why does it have such a name hahaha ... and I laughed the first time I read it. That's because..when you bake this cake ... your neighbors come and eat it whole (because it's very good) and nothing to you it doesn't stay.And you stay sad and hungry and without cake.That's why you should always make a double measure so that both your family and neighbors are satisfied. Usually members say they have nothing left for their neighbors ... because they fry it before the neighbors rush to the door.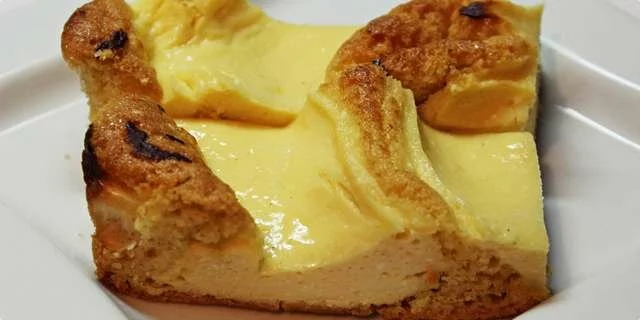 Preparation steps
Turn the oven to 200 degrees, grease the pan with oil and line the baking paper and around on the sides of the model and glue it to stick to the sides.
First whisk the egg whites, add the sugar, then the egg yolk, add the oil and flour with the baking powder. Mix and pour into a rectangular pan much smaller than the oven or into the cake model no.26. If the pan is larger then the cake will be low.
Then immediately prepare the cream, whisk the egg whites with the sugar until frothy, add the egg yolks, whipped cream cheese, vanilla sugar, pudding powder and sour cream. Mix everything nicely so that no lumps remain and pour over the dough mixture in the cake tin. bake for 30-35 minutes at 200 degrees. I will especially emphasize that the dough and cream are baked together.
When baking, the dough will peek through the cream and will make hills and valleys and so the cake will be more interesting. When the cake has cooled, you can eat it just like that with powdered sugar on top.
And if you want with the topping then put the frozen fruit, sugar and a tablespoon of water in the sherpa and cook until the fruit thaws and the sugar melts. Pour over a piece of cake when serving.
Serving
I had lumpy cottage cheese, and with a stick mixer brm, brm and I mixed it up and it became smooth.